Slave girl with long dark inner labia forced to sit on a gigantic dildo
03-04-2014, 08:46 PM
felix
Labia Administrator


Posts: 1,320
Joined: Oct 2013
Reputation: 299

Thanks: 1247
Given 5141 thank(s) in 1186 post(s)

Slave girl with long dark inner labia forced to sit on a gigantic dildo
03-05-2014, 01:51 AM
Knightoe
Labia God


Posts: 4,085
Joined: Oct 2013
Reputation: 2881

Thanks: 7728
Given 16045 thank(s) in 3830 post(s)

RE: Slave girl with long dark inner labia forced to sit on a gigantic dildo
So how's your day going sweetie? You look busy, and I see you have a new hobby ....... cool! Ya, I'm into jigsaw puzzles myself
Nice outtie there
Interesting pic felix ~ thanks
11-26-2015, 02:16 AM
Emperor_Pilaf
Labia Searcher


Posts: 7
Joined: Nov 2015
Reputation: 4

Thanks: 23
Given 31 thank(s) in 7 post(s)

RE: Slave girl with long dark inner labia forced to sit on a gigantic dildo
11-26-2015, 12:57 PM
Knightoe
Labia God


Posts: 4,085
Joined: Oct 2013
Reputation: 2881

Thanks: 7728
Given 16045 thank(s) in 3830 post(s)

RE: Slave girl with long dark inner labia forced to sit on a gigantic dildo
(11-26-2015 02:16 AM)

Emperor_Pilaf Wrote: Her name

Shanis
Right you are Emperor_Pilaf. Her short bio reads as follows:
Shanis
AKA: Shanys, Shanice, Shanisse
DOB: September 27, 1989 ... retired 2012
France
A couple of links for anyone who wants more information:
https://www.thenude.eu/Shanis_15567.htm#Bio
http://www.indexxx.com/models/11342/shanis/
The picture above comes from a set by Explicite-Art called
En Profondeur
(In Deep). Some samples from the set (variable size):
.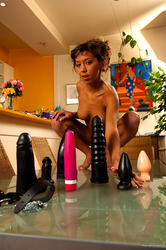 .
.
<-- pic above in HD 2000x3000
Credit to
Explicite-Art
Most of her sets are hardcore porn, but if anyone has/finds some acceptable softcore pics they would like to post, send me a PM and I'll set up a model thread for her.
User(s) browsing this thread: 1 Guest(s)