AKA
: Samantha Ho, Kwan Ka Po, Vivian Lin, Petchara Pannarai, Chan Pik Kit, Mak Kei Kei, Yung Si Yu, Petchara Wanlee, Wong Sze Ka, Chutima Loedpipatwong, Ploy Chalita, May Kan Kan, Ploy Chutima
Nude model and porn star, Petchara was arguably the most popular model from Thailand. She did 100s of photoshoots and videos before retiring around 2008.
Selected images from 3 different photo sets.
Clickable thumbnails:
.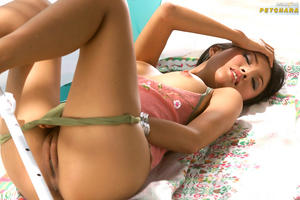 .
.
These pictures were produced by
Asian4You
, who has since shut down. However, their pictures can still be accessed at
TheBlackAlley
.